Streamed live: 13 December 2017
(Podcast UFO, Sebago, Maine)
Source: Martin Willis Live Shows (YouTube channel)
"Guest Robert Powell discusses the Aguadilla, Puerto Rico UFO sighting and then the USS Nimitz 2004 UFO Incidents, in hour two he speaks of a very interesting sighting a DOD contractor had while hunting and much more.
BIO: Robert Powell is a charter board member of The Scientific Coalition for Ufology (SCU), has been the Director of Research at MUFON from 2007-2017 and created MUFON's Science Review Board in 2012. He is one of two authors of the detailed radar/witness report on the 'Stephenville Lights' as well as the SCU report 'UAP: 2013 Aguadilla, Puerto Rico'. Robert is also a member of the Society for Scientific Exploration, the UFODATA project, and the National Space Society. Robert is active with FOIA requests to various government organizations to obtain information on historical cases and is a co-author of a book published in July 2012: UFOs and Government: A Historical Inquiry. Robert currently resides in Austin, Texas."
The November 2004 USS Nimitz Carrier Strike Group 11 UFO incidents occurred about a hundred miles south west of San Diego, California. The UFOs were observed on radar
on and off
for several days, according to USS Princeton radar operator Kevin M. Day. The main incident occurred on 14 November 2004.
To my knowledge, five U.S. Navy personnel, Kevin M. Day, David Fravor, P. J. Hughes, Omar Lara and Jim Slaight, have talked about the UFO incidents on the Internet.
Kevin M. Day was a radar operator aboard the USS Princeton.
David Fravor, who chased the UFO (resembled a white Tic Tac), was flying his F/A-18F Super Hornet jet fighter.
At the time of the UFO incident, Fravor was the commanding officer of the VFA-41 Black Aces, a U.S. Navy strike fighter squadron.
P. J. Hughes was an aviation technician aboard the USS Nimitz.
Omar Lara was a Flight Decker in Air Ops aboard the USS Nimitz.
Lieutenant Commander (later Commander) Jim Slaight was the pilot of the second F/A-18F Super Hornet
jet fighter.
On 25 April 2013, at around 9:20 p.m., a UFO/USO was filmed over the Rafael Hernández Airport (before it shortly thereafter dived into the sea) in Aguadilla, Puerto Rico,
by a DHC-8 Turboprop under the command of U.S. Customs and Border Protection.
realtvufos.blogspot.com/search?q=Robert+Powell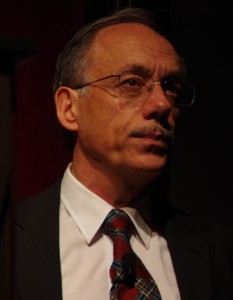 Robert
Powell,

U.S.

UFO Researcher
(podcastufo.com photo)
Freeze-frame of the Tic Tac UFO (filmed from a U.S. Navy
F/A-18F Super Hornet jet fighter on 14 November 2004)
(U.S. Department of Defense/disclose.tv/gstatic.com image)
USS
Nimitz
ahead of USS
Princeton
(text by Wikipedia)